Breastfeeding diet should focus on retaining the nutrient stores as it has an influence on the quality and quantity of breast milk. Nutritional requirements are maximum during lactation than at any other age in a woman's life. Hence, the diet should be wisely chosen and balanced. It is important to gradually lose weight, gained during pregnancy. Use a combination of healthy balanced diet and moderate physical activity to do so.
During this appointment, your health care provider will check your mood and emotional well-being, and review information about infant care and feeding. Your health care provider will also talk about your sleep habits and issues related to fatigue, and do a physical exam.
Eat small meals frequently, preferably every three hours.
At every meal, fill half your plate with a variety of colourful fruits and/or vegetables.
Make at least half the grains you eat whole grains, such as whole-wheat rotis, brown rice, whole grain cereal or meal items from jowar, bajra, oats or corn.
Intake of toned milk and milk products (up to 500 ml) every day is recommended for calcium requirement.
Add at least one serving of dark green leafy vegetables and a serving of fresh vegetable salad every day. Do not cut and wash or soak fruits and vegetables until you are ready to eat them.
Take good quality protein foods like eggs, fish, and chicken. Vegetarians can opt for soya nuggets, tofu, paneer and low fat cheese. Prefer whole grams or beans like chana, rajma, peas, moong, lobia at least one serving a day.
Use oil in moderation. Prefer cooking oils such as groundnut oil / ricebran oil / soya bean oil.
Include nuts, oil seeds and dry fruits in limited quantities every day. Almonds, walnuts, pistachios, flaxseeds and dried fruits such as dates, figs, prunes, raisins are some of the options.
Fluids: Ensure optimal fluid intake everyday. Apart from safe drinking water, fresh soups, buttermilk, and coconut water, are the healthier options.
Avoid replacing meals with snack foods.
Good food for
post delivery ladies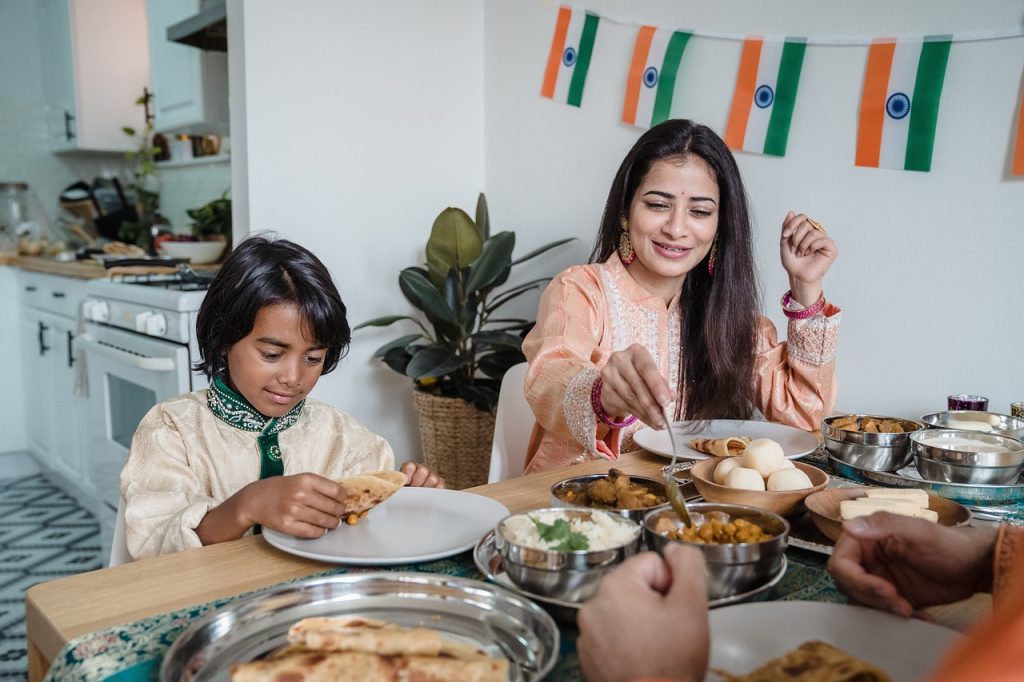 ⁃    Spinach
⁃    Legumes
⁃    Dates
⁃    Anjeer etc makes women feel stronger
⁃    Muringa soup
⁃    Whole sprouted grains
⁃    Dry fruits – Almonds (how to take? Take a bowl of water and soak a                few almonds in them. Let soak through the night and have them first              thing in the morning as soon as you wake up.)
⁃    Bottle gourd
How much a women should eat?
Most new moms need between 1800 and 2200 calories each day.
Protein content food like Beans, seafood, lean meats, eggs and soy products. Calcium – Milk is the main source but low fat should be given. For iron Red meat or poultry, tofu, beans 10mg of iron is the daily requirements.
Early morning: Milk – 1 cup / tea / coffee.
Breakfast: Idly (3) / Pessarattu (2) / Veg upma (11/2 cup) +chutney (2 tbsp) + 1 cup sambar OR Chapatti (2) + vegetable curry OR Whole grain breakfast cereal (40g) with milk (200ml) + Egg (1) / Paneer (30g).
Mid-morning: Soya milk / Ragi malt 150ml + Fruits (1 cup)
Lunch: Vegetable salad (1 cup) + phulka (2) + Brown rice (1/2 cups) + Non veg Proteins – Lean meat or Chicken (50 grams) / Veg Proteins – meal maker / Paneer (30 grams) + green leafy vegetables (1 cup) + other vegetables (1 cup) + curd / (yoghurt) – 100 ml
3:00 pm: Fruit (1) + Soya milk (150 ml) / Milk (150ml) / buttermilk – 200 ml Evening : Oats (2 tbsp) / Ragi malt (2 tbsp) + Boiled Sprouts (1/2 cup)
7:00 pm: Veg. soup (1 bowl)
Dinner: Phulkas / bajra roti / jowar roti (80g flour) + green leafy vegetables (1 cup) + other vegetables (1 cup) + Non veg Proteins – Minced meat / fish (50 grams) / Veg Proteins – Soya granules (1/2 cup) / Dal (1/2 cup) + Curd (100 ml)
Bed-time: Milk (1 cup) + Nuts (8 – 10 nos.)
Note: 1 cup = 200ml. Use 30g of fats or oil and < 5g salt during preparation of meal per day.